I'm only halfway through Anne Elizabeth Moore's
Manifesti of Radical Literature
but I couldn't wait until I had finished reading it to spread the word. It's that good.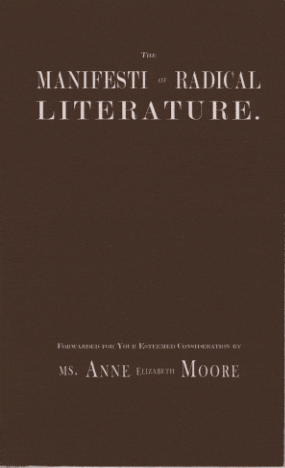 Moore's little self-published book (subtitled
A ready-reference pocket book for the aware human
) is a collection of essays meant to demystify politics, poetics and activism, and to empower writers, readers, artists, children and... everyone, really.
In simple and often funny prose (including lots of footnotes, parentheses and point-form lists) Moore makes us realize that:
1. Every action has a political impact,
2. We don't have to let outside forces affect our lives without our consent, and
3. It's worth it to use our power as consumers and creators of culture to generate the changes we'd like to see in the world.
I'm proud that we're carrying
The Manifesti of Radical Literature
- thanks Jamie Q for recommending it! We're one of the only stores in the world (possibly the only store in Canada) that sells it and we only have a few copies left, each with a different handmade "dust jacket".
Stop by and pick up a copy before they're all gone!