(The
Canadian Centre for Architecture
is a wonderful place. We love their bookstore, we love their exibitions and most of all we love their curator's imagination. They always seem to be able to pinpoint exactly what the most relevant contemporary issues are and then explore how they relate to our use of, and construction within, our physical environment.)
Remember those gas price hikes a couple years ago? This was the 70's version.
"Sorry, Out of Gas: Architecture's Response to the 1973 Oil Crisis" is collected catalog, filled up with a bunch of essays, of a CCA exhibition from 2008.
This article
, from
arttattler
, sums the show up.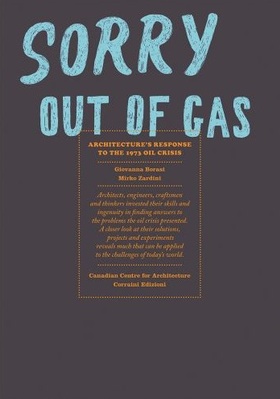 This beautifully bound and printed book details the strange, different and innovative solutions to the energy crisis that began in the 70's, when fear of peak oil pushed architects, and all sorts of folks, to start reconsidering how and when they used energy. With the re-surge of our energy worries in the past decade, CCA thought it fit to put together a show that documented the legacy of those innovations and examined the forms in which they continue on today.
The book opens with an illustrated tale by Harriet Russel. You can see her tale
here
. Packed full of cool information, images, drawings and writing, it is definitely one of the most interesting ones we've come by recently.