This week was very exciting because we (finally!) received some big, wonderful, white boxes from Fantagraphics.
A lot of old staples have been re-stocked in the store (which means that Daniel Clowes, Joe Sacco, and Robert Crumb have quietly taken over the Librairie). But we also have a lot of new goodies!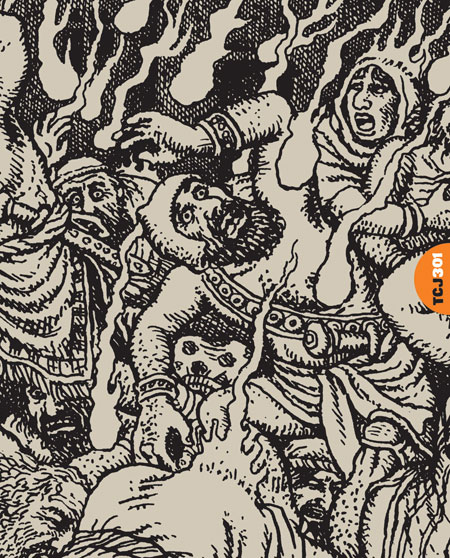 Namely,
The Comics Journal #301
, which is a brick. But justifiably so! This book is PACKED with the good stuff: an interview with Robert Crumb on
The Book of Genesis
plus a roundtable discussion on
Genesis
; an interview with Joe Sacco on
Footnotes in Gaza
; sketchbooks from Jim Woodring, Tim Hensley, and Stephen Dixon; a review of D+Q's
Black Blizzard
; and so much more that it is almost ridiculous.
Check out this video to take a quick walk through the book:
F.B. & M.B. Present Drawing Power: A Compendium of Cartoon Advertising
is a look at advertising from 1870-1940. It's fascinating to see the degree to which cartoons and drawings played a prominent role in the selling of America. There's even some Dr. Seuss in here!
If you need a book to visually accompany Nicholson Baker's
House of Holes
, may I suggest
Celluloid
by Dave McKean? It is quite the dirty dirty
dirty
book.
Celluloid
is wordless so as to make room for the diversely approached (and oh-so-graphic) imagery.
Last up: Shimura Takako's
Wandering Son
Vol. 1
, the story of a girl who wants to be a boy, and a boy who wants to be a girl. Adressing LGBT issues in a delicate and perceptive manner, this manga is unusually subtle.
However, resident D+Qer Julien is more well-versed in manga than I, so keep a look out for a blog post by him where he'll talk about
Wandering Son
in more depth.