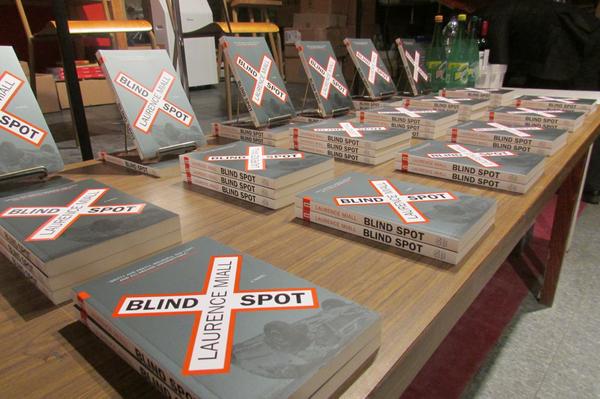 On Thursday, September 25th the Librairie Drawn & Quarterly hosted the wonderful Laurence Miall's launch of his first book, Blind Spot! It was a packed, wonderful night, with the whole audience supporting a local author on a grand success.
Laurence was introduced by friend Christian Durand, who wasn't "really sure why he asked him to do this." Christian is an ex-pat from Calgary and shares the following characteristics with Laurence: same age, tons of people in common, went to the same Metallica concert in 1991.
Laurence was born and raised in the United Kingdom, but his finishing school was an 18 year journey in Alberta. He has, in his diverse life, been a knife seller, a political spin doctor, and a bucket factory worker, and now works in communications at Concordia while maintaining his status as the fiction editor at carte blanche.
Laurence was kind enough to call us supporters of the writing and graphic novel community; he thanked us, mentioned we have events what feels like "almost every day of the week." We've got the buff table-lifting arms to prove it, too, for the record.
Laurence read from
Blind Spot
in three parts, one from each setting his main character goes to. Afterwards, Laurence addressed issues of the antihero in literature, the importance of place, and family. It was a wonderfully lively discussion.

To top the night off, there was a draw! Right when the early birds showed up, Laurence handed out little sheets of paper. The first 6 people who arrived were supposed to receive Alberta ale, but Laurence didn't have a chance to pick it up, so he instead brought back a mug from the world's first UFO landing pad, a tourist spot in Edmonton.